It is often a good idea to store a backup of your website, either as protection against some kind of hack or corruption, or as a stable version of your site before making significant changes.
You can connect via FTP to download the site files and use phpMyAdmin to export a copy of your database.
Note: Many contemporary sites use an SQL database, which is necessary for the function of your site. Backing up the site files and not the database could render your backup unusable.
Your Web Hosting Package makes regular, incremental backups of your site and database which are available for restoration upon request. In addition, you can create backups yourself.
Note: Backups made through your Control Panel will count towards your disk space
If you would like to download a copy of your site from backup you should perform the following steps:
Please note: All Plesk FAQs are displayed using the "Active List" view. There are three different view types to choose from in your control panel: Active List, Dynamic List and Classic List. If you would like to change the view type please click the wrench icon on the top right of your control panel and select your preferred view type.
Step 1.
Login to your Internic account and select Hosting Manager.
Step 2.
Click the Control Panel button to the right of your Web Hosting package.

Step 3.
At the top right of your control panel, you'll see Backup Manager.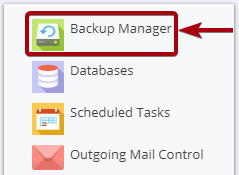 Click on Backup Manager to see a list of your backups.
Step 4.
Click the green arrow to the right of a backup to download a copy of that backup to your computer (you will be given the option to password protect that backup archive).

Your browser will download your backup to your default download location.
You can also click on the Creation Date of the backup to select only the elements you wish to backup locally. This is also where you can restore your site and email to a previous date.

Alternatively, you can create an FTP account to download your site files to your computer.
Beneath your domain name on the Websites & Domains page, click on FTP Access.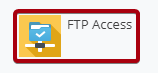 Click the button to Add an FTP Account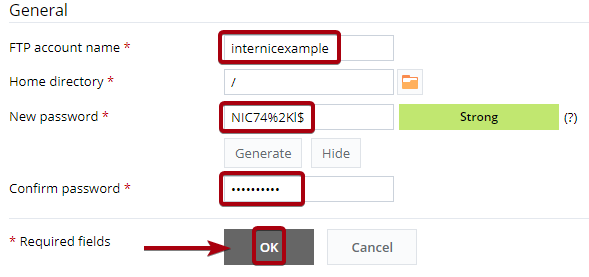 Your FTP settings will be:
Host Name: ftp.yourdomain.com
Username: yourFTPusername.yourdomain.com
Password: your FTP password for this user
Port: 21
If you download your site files by FTP, make sure you export a copy of your database, if needed.
In your control panel, go to Databases, then click Export Dump. You'll be provided with a link to click to download your exported database.
Click here to see how to change your Plesk Views:
https://support.internic.ca/hc/en-us/articles/7707070001435-How-do-I-change-my-Plesk-view-mode-