To add domains to a specific portfolio, please follow these steps:
Step 1.
Login to your Internic account, click My Account, and select Domain Manager.
Step 2.
Select the domain(s) you wish to add to a portfolio. Click directly on the domain name or click the check box beside the domain(s) and select Edit at the top of the list.

Step 3.
Scroll down the domain editing page to the Set Portfolio section.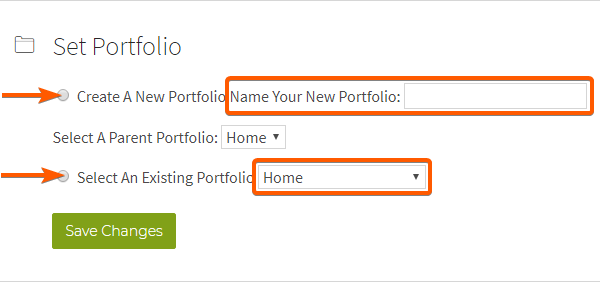 You can Create A New Portfolio and Name Your New Portfolio using the field provided. You can set your Home portfolio as the Parent Portfolio, or choose another portfolio you have created using the Select A Parent Portfolio drop-down menu.
You can choose to Select An Existing Portfolio by clicking the radio button for that option instead, and choosing a portfolio from the drop-down menu.

Step 4.
Scroll to the bottom of the page and Save Changes.