If you would like to view or print your bill please follow these steps:

Step 1.
Login to the your Internic.ca account, click on My Account in the top right, and select Billing History.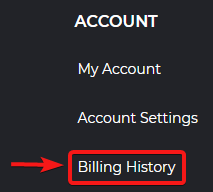 Step 2.
On the left side you will be able to adjust the date-range by clicking Week, Last Month, Current Month, Year or Custom. You can also click Advanced Search and search you billing history by credit card and/or domain name.
Step 3.
To view a brief description of your order simply click on the order number. You can then click on View Printable Version.

Step 4.
If you would like to view or print a copy of your detailed invoice or receipt click on either document under the Invoice/Receipt tab.